Welcome to the Call to Battle Wikia
Edit
Enter the world of Call to Battle, a mod for Minecraft that takes you back to the times of World War Two! Call to Battle strives to be the most realistic (within the confines of Minecraft) first person shooter mod. It's goal is to reach across ALL the theatres of WWII, from your standard US vs. Germany to the more unsung battles in countries ranging from Italy to China. This mod not only contains commonly used WWII weapons, but some lesser known counterparts and even a wide array of attachments from the time period.
Countries - Look at the included countries and their equipment!
Gameplay- Learn about the basics of how to use this mod, and unique features as bleeding, proning, etc.!
Crafting- Learn about the mods unique crafting system
Game Types-Learn about Game Types such as Assault and Team Deathmatch, and how to set them up!
Content Packs-Learn how to create Content Packs!
Configuration - Find out the commands to configure your experience!
Latest activity
Edit
Photos and videos are a great way to add visuals to your wiki. Find videos about your topic by exploring Wikia's Video Library.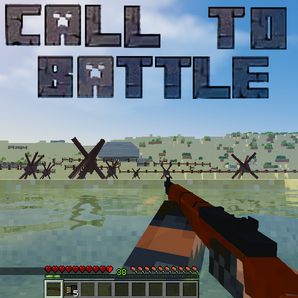 Ad blocker interference detected!
Wikia is a free-to-use site that makes money from advertising. We have a modified experience for viewers using ad blockers

Wikia is not accessible if you've made further modifications. Remove the custom ad blocker rule(s) and the page will load as expected.